A one-time service to fight your deactivation.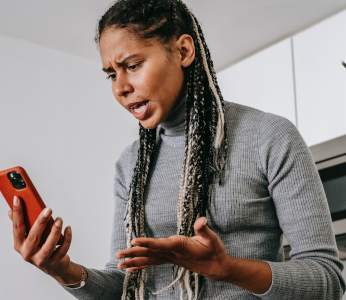 Were you unfairly deactivated?
Gig workers can be unfairly deactivated for a variety of reasons. Unfortunately, most workers never get the chance to explain their side of the story. DeactivationHelp.com was launched by the Labor Compliance Advocacy Group to give workers an opportunity to prove they were wrongfully deactivated in an attempt to get back on the platform.
For a one-time fee of: $49.99 $24.99 (LIMITED TIME OFFER!)
DeactivationHelp.com does all of the hard work for you. We take the information you provide, including any evidence you have, then draft and mail a demand letter to the gig company of your choice. We explain the situation, explain how you've been wrongfully deactivated and demand the gig company take a look at your argument. Our legal team reviews each letter before it's sent via USPS Certified Mail, so you'll know exactly when it's in their hands. 
Example reactivation response: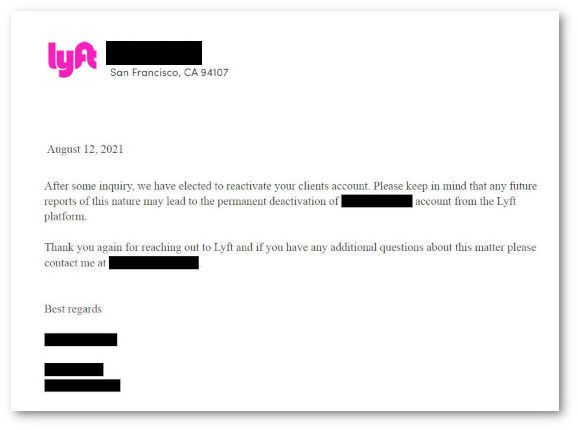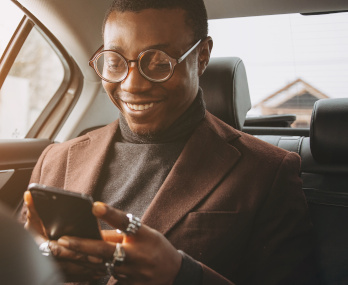 Hear how we helped our past clients
Thank you for the help. Uber just activated my driver account.

-Venkata D. (Uber)
Uber reactivated me tonight. Thank you so much.

-Saj B. (Uber)
It was faster than I expected. I really appreciate everything you did for me!

-Mark K. (Amazon)
Thanks for all your help. I am already updated on the platform and driving.

-Bill P. (Lyft)
Your company has helped me greatly when other avenues were not working!

-James C. (DoorDash)
I'm so happy with you guys were the only one could helped me with this situation.

-Augusto N. (Lyft)
Doordash reactivated my account!!

-Shaun S. (DoorDash)
My account was reactivated. I will let you know if I have issues again in the future.

-Tom (Lyft)
I got my account back. Thank you so much and I appreciate that.

-Hussam H. (Lyft)
Uber has reactivated me! Thanks for all your help.

-Tendai G. (Uber)
Just wanted to let you know that I have been reactivated. Thank you for offering this service.

-Valerie P. (Grubhub)
Thank you very much for your help!

-Ron G. (Uber)
I was reactivated and I wanted to thank you all so much. :D

-Kati G. (Instacart)
I have been reactivated on Uber Eats. Thnks!

-Seth S. (Uber)
I am back on Uber thank you!

-Melanie S. (Uber)
I have been reactivated.

-Alex G. (Uber)
How It Works:
1. Complete Form
Provide the details of your deactivation. Include how many trips you've done, your rating, the reason for the deactivation and more.
2. Attach Evidence
Screenshots? Photos? Reviews? We'll attach these materials to the letter to help support your contention that you were wrongfully deactivated.
3. Legal Review
Our legal team will review, prepare and draft a letter to the deactivating company, urging the company to review your deactivation.
4. Certified Letter Sent
You'll receive a copy of the letter and a USPS tracking number to keep tabs on the delivery.
Reactivation Request:
Fill out the form to get started!